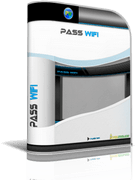 Minimum System Requirements:

Windows 2000; XP; Vista; 7; 8; 10

1Ghz, 256Mb RAM, 5Mb free

Compatible 32 Bits / 64 Bits
Works on multi-station
Last update 05.01.2017
Free update
Compatible with multiple accounts
In English
How to hack a WiFi access key?
It allows any user to hack a wireless network without knowing the password. Even if the password is complicated or not, PASSWORD WIFI will decipher the security key.
With a very powerful analysis capability, PASSWORD WIFI scans in real time network connections to extract login ID. Designed for novices and experienced users, the software interface has been simplified! It will reveal the name of the WIFI with its associated password!
How does it work?
PASSWORD WIFI is the easiest WIFI code decryption software ever!
Created for the sole purpose of helping people wanting to have an Internet connection on their device, PASSWORD WIFI operates through technical analysis and sophisticated decryption methods. Even if the security code is complex, PASSWORD WIFI decodes WEP, WPA or WPA2 keys instantly for you.
Here's how it works:
- You save the program on the machine accessing the wireless network.
- You open PASSWORD WIFI.
- You read the recommendations given by the software.
The program will make several phases of analysis, it will connect, scan the network properties and display the names associated with the wireless security key. Then you will have to save them to a text file in order not to forget them.
PASSWORD WIFI setup file is FREE.
Please click on the "Download" button.


Hack a Wifi password
With Password WLAN, have fun by hacking all wifi keys codes T-Online, Android Hotspot to access the Internet from anywhere. Through this program you can crack all Wifi passwords of anyone with a box or a WiFi rooter. Easy and simple to use, this application installs in minutes on your computer wishing to access the Internet. And once executed, it will automatically hack all security keys for network connections. 100% guaranteed result. Be careful, this should be done on your account. Respect the laws of your country.
How to Hack a Wireless Password?
We should warn you that crack WPA2 keys so far is in developing progress and this option will be available in the new version of Pass Wifi. Then WiFi Password Hack is the right software for you. It can hack any type of network encryption with the click of a button. WEP, WPA, WPA2 or whatever it is, it's no match for WiFi Password Hack. Wifi Hacker Prank is the best way to prank your friends into thinking you are a technical genius and show off as if you have special powers compared them. Wifi Prank has nice UI and professional analyzer animations and hence you appear very professional techie to your friends. Easy to fool and Prank your friends with this prank. You need to have some programming & networking knowledge to completely understand the mechanism of the software. But, in short it searches for the WiFi around it and connect to them. And, start receiving the packets from them and analyzing it. Finally, it tries to decrypt the packets to get the WiFi password. This application can crack WPA, WEP, and even WPA2 password protected networks. Wifi Password Hack can also recover lost or forgotten Wi-Fi passwords at home, work, and school! In the most updated version of this tool, it only takes 5-10 minutes to get Wi-Fi anywhere! It's on it's way to become extremely popular, and I will consider how long it will stay free. WiFi password hack is definitely worth the download!

Hack Wifi password
Once you have downloaded the dictionary file you can go back to the main screen, hit the refresh button and it will show you which routers are 'vulnerable', meaning it can find the password to that router, just tap the 'vulnerable' network to be presented with the key and then connect to the network with the key, simple! If a hacker knows the content of one packet, he can use the collision to view the contents of the other packet. If enough packets are collected with IV matches, your network's security can be compromised. This tutorial will show you how to crack WPA2 and WPA secured wireless networks. If you wish to hack your neighbors wireless fidelity or if you go any public spot, simply you would like few clicks for hack around vary wireless fidelity.
WIFI Password Recovery is a fast and intuitive application whose purpose is to recover wireless network connection passwords. The installation procedure takes little time to finish and does not need special input from the user. You are shown a simple interface that consists of a regular window with a plain layout. All existing Wi-Fi passwords are automatically shown at initialization, together with the service set identification (SSID), authentication method, encryption mode, and connection type. This Wifi Password Hack is very easy to use. You can do the last steps: Write the username, check what is security type on Wifi that you want to hack, and go on HACK Password. Is very EASY! Just keep in mind that this is for standard wireless connections, don't try to hack the White House's Wifi connection unless you want to meet someone of the secret services. Have you ever dreamed that you can hack a password of any WiFi network? Now you can.
Google+
Google
Pass Wifi
Noted
4.5
/5 based on
1483
users reviews